November 22 2018, Audi Kitchener-Waterloo
Whether it's a coffee stain to the upholstery, a door ding from the shopping centre, or a scuffed alloy wheel from parallel parking gone wrong, little accidents can quickly spoil the finish of your Audi and reduce its resale value. Audi After Care Appearance Protection is designed to protect your Audi vehicle from common mishaps that can quickly deteriorate its original showroom finish.
Appearance Protection is available for new, Certified Pre-Owned and used Audi vehicles. The program has customizable plans to suit your coverage needs and the length of time you intend on owning your Audi. With Appearance Protection on board, you will have peace of mind knowing that your vehicle will always look its best while maximizing its resale value.
Appearance protection coverage
Interior Protection – Repair to damage of the interior vinyl, fabric, and leather components
Paintless Dent Removal – Removal of small dents on the exterior vertical body panels without harming the original finish of your vehicle
Paint Repair – Repair of non-collision related paint damage on the exterior surfaces including bumpers
Key & Keyless Remote Replacement – Applies to lost, stolen, damaged keys and/or keyless entry remotes
Front Windshield Protection – Repair or replacement for damage caused by road hazards
Head/Tail Light Protection – Repair or replacement of damaged head and tail lights
Tire and Wheel Protection – Repair or replacement of Audi recommended tires and/or wheels for damage caused by road hazards
Curb Scuff Repair – Repair of cosmetic wheel damage caused by accidental curb scuff during routine parking maneuvers
Car Rental Benefit – Car Rental reimbursement is included for any eligible claim
24 Hour Roadside Assistance – Can be added to your protection coverage for a small additional cost
*Please note that all damage due to collision and vandalism is excluded
Coverage options
Audi Appearance Protection offers a number of different coverage options for your vehicle: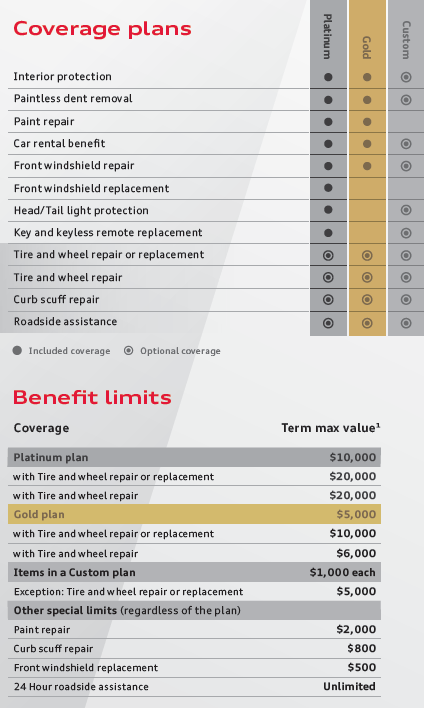 Pricing varies by Audi model, length of plan, and level of coverage. Please contact our Finance Manager, Andrea Douglas or Susan Bauman for further details.